Roller - sublimation transfer machine ZS-AB
1. Adopt the United States import "dupont" blanket, the thickness is 10 mm, the transfer effect is good, the service life is long.
2. Seamless tube rollers, cylindrical outer round/inner round precision lathe, polishing and replated ferrosaurus, ensure that each point temperature is consistent.
3. Double layer roller heating is more uniform (optional single layer). The transfer effect is colorless and saves 20% to 30%.
4. The main wallboard is made of 15 centimeter-thick steel plate. The line cutting is of high accuracy and less error.
5. Adjust the spindle precision lathe, polishing and plating platinum. The error control is within 2 C. The blanket should not deviate properly.
6. Imported electrical parts. High quality digital display, temperature, time control, higher precision.
7. Double pneumatic pressure (pressure adjustable), front silicone shaft pressurization, transfer effect is better.
8. Independent positioning frame (detachable), positioning is more accurate.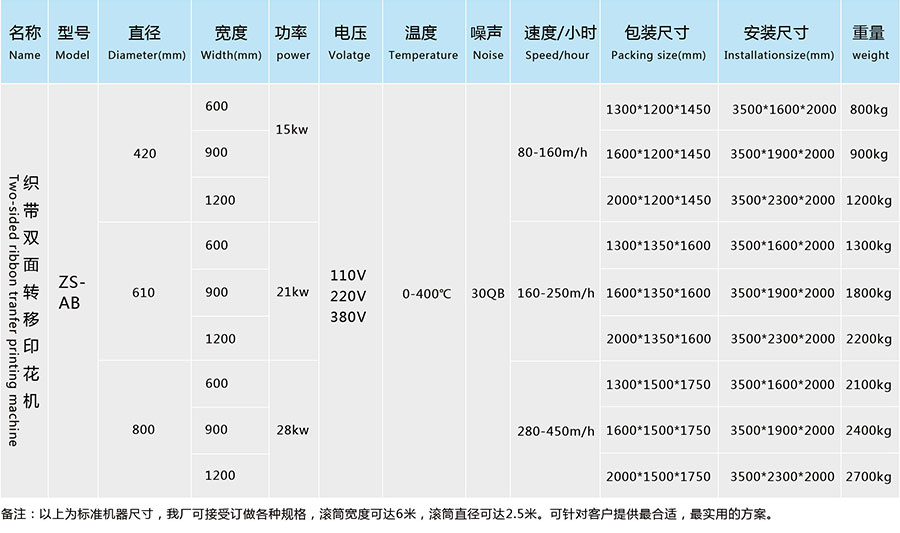 ZS-BB600-type ribbon transfer machine double-sided printing Features:
1. Blanket imported "DuPont" raw materials, production plant in Shanghai joint venture, the thickness of 10 PCT, transfer effect, and long service life.
2. The use of 100% seamless tube drum, drum, outside the Seiko lathe, drum outside the Seiko grinder, and then iron dragon, to ensure that the temperature of each point in line. Taiwan's stainless steel heating pipe direct heating layer, 45 minutes to 1 hour can be heated to 200 degrees.
3. The main wall (electric box) with 10 PCT thick steel plate production.Wire cutting, high precision, the error is smaller.
4. Each offset shaft is lathe, grinder, and then platinum. Error control in the 2 C. Within the normal work of the blanket does not go astray.
5. Electrical control. High-quality digital display, temperature, time control, higher accuracy
6. Imported variable-speed motor, according to the transfer of different materials to adjust the speed.
7. Carbon brush conductive heating, conductive properties more stable and safe.
8. blanket with off-type, when the power outage or shutdown, the manual operation of the blanket and roller to separate the blankets to better protect the blanket and extend its life.
9. The machine adopts 3 put 2 receive function. Can be customized according to customer requirements. Optional inflatable shaft close / release, positioning better.
10. Automatic shutdown function, set the automatic idle time can be shut down for the staff to save time.
11. Independent positioning frame (detachable), more accurate positioning.
12. Multi-functional roller ribbon transfer machine suitable transfer: small pieces, ribbon, cord, shoelaces, mobile lanyard, pet belt, zippers and so on.

Product application: small cut, ribbon, shoelace, mobile phone hang rope, pet belt, zipper .
Did not find the right one?Look at these